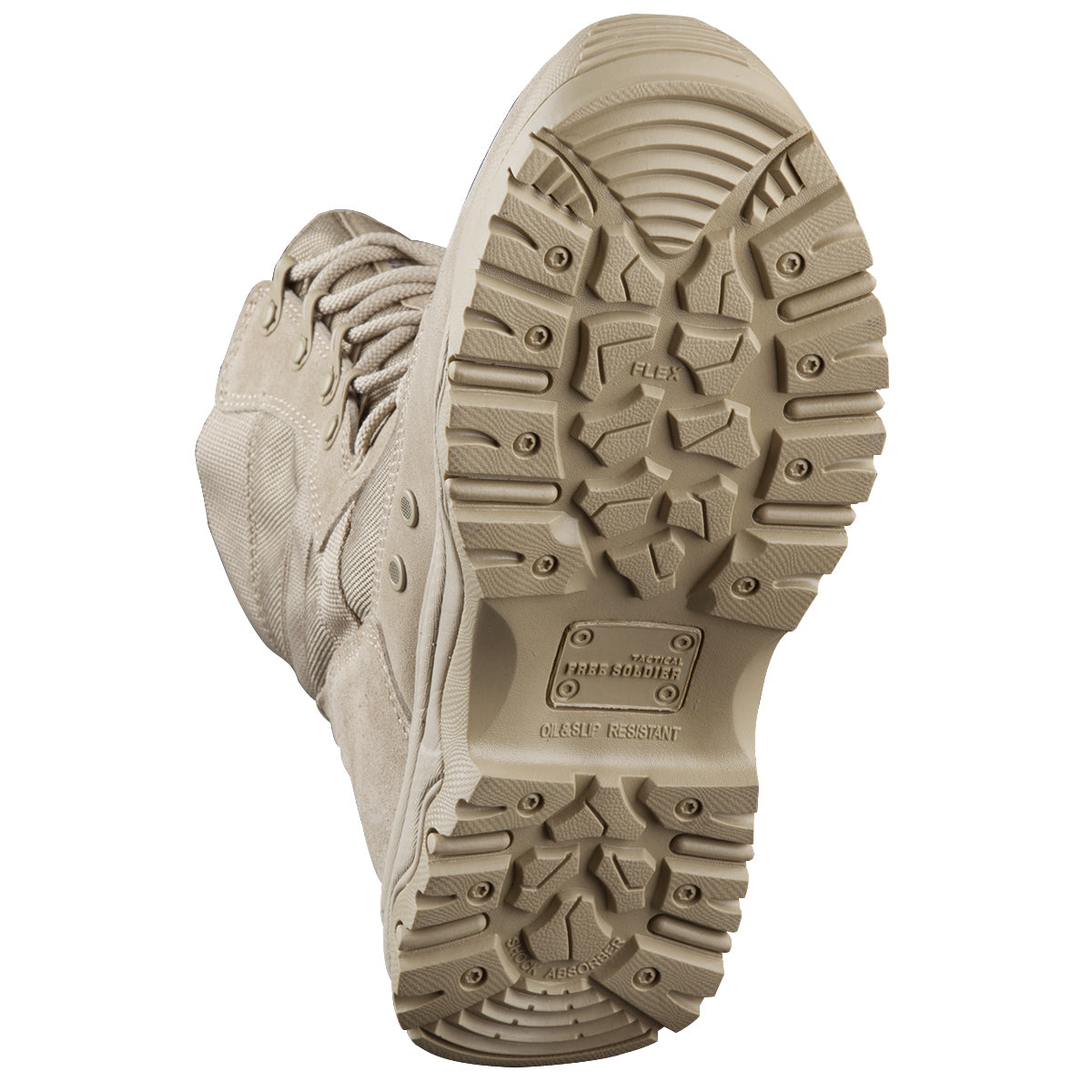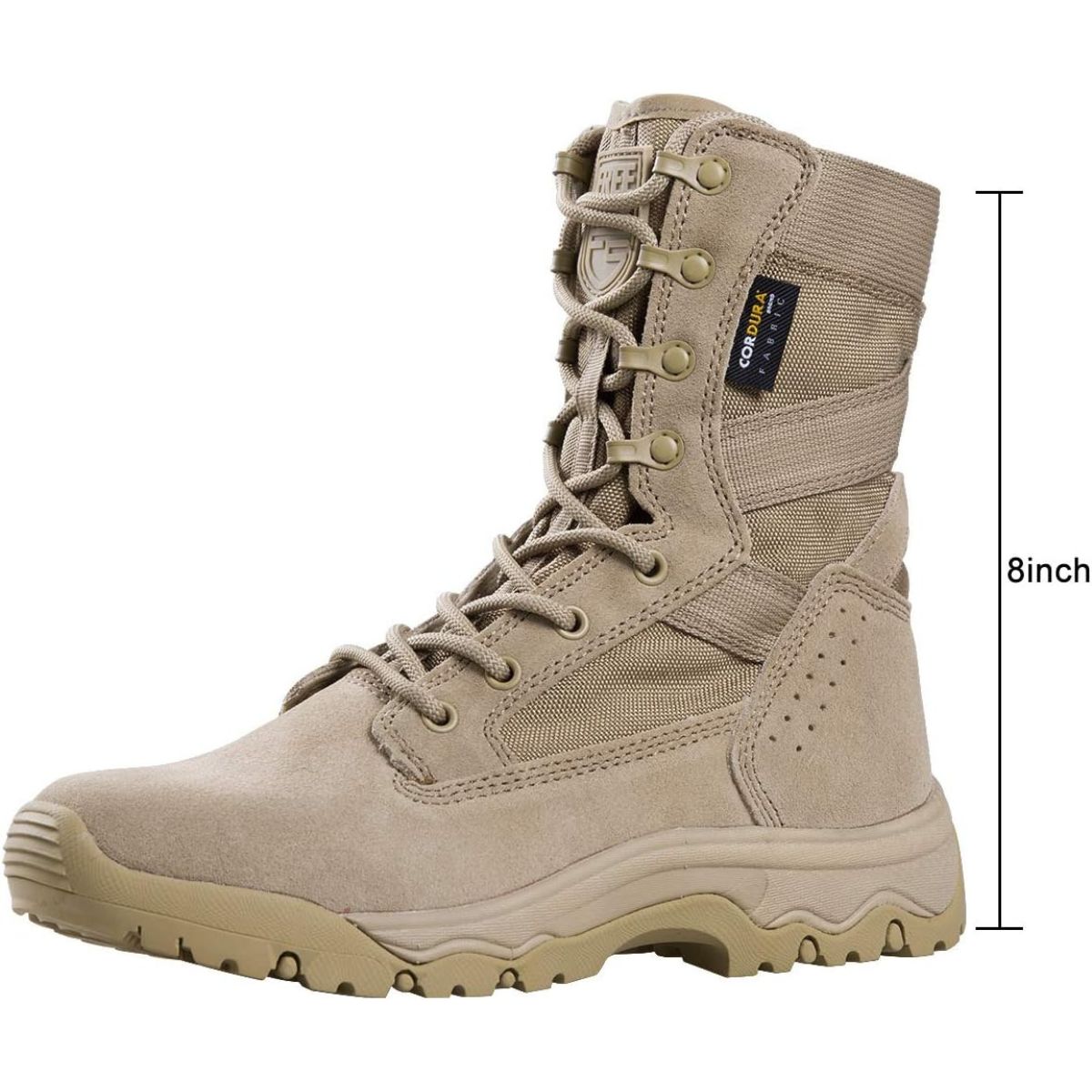 8-Inch Lightweight Thin Military Work Boots
---
FREE SHIPPING is available on all orders over$80
Ships from local U.S. stock
Standard shipping: (5-8 Days)
Express shipping (3-5 Days)
Note:
· Order consisting of several items may be shipped separately.
· Deliveries may take slightly longer In remote areas or facing various delivery uncontrollable factors (i.e. logistics issues, weather, traffic conditions,national holidays, high volume season, etc).

If you are not 100% satisfied with your purchase from FreeSolider,you may request a return within 30 days of delivery. Please note, returns will only be accepted if the returned item(s) meet the "Return Conditions" specified below.
Return Conditions
Item(s) are sent back within the stated return.
Item(s)returned must be UNWORN and in the original packaging.
Buyers are responsible for the return shipping cost.
For more info about return,refund and exchange info please see here.
*
304 customers purchased this product in the past week
304 customers purchased this product in the past week
Fraud Prevention: Your Payment is Safe & Secure.
Outdoor Boots For All Seasons
Whether it's summer or winter, you can use this hiking boots for a great adventure, lightweight and durable shoe body won't be your trouble.
Flexible and Sturdy
Weighing about 2.4 pounds, the tactical boots won't weigh you down during your activities, and the flexible toe cap is very sturdy, effectively against outer shock
Strong Traction
Non-slip rubber outsole for all terrain, strong grip with geometrical pattern design,provides extra stability and security.
Boots For A Variety Of Scenarios
Gorgeous appearance and powerful functionality, suitable for camping, hiking, hunting, mountaineering, law enforcement, etc.
Very high quality for the price
Before you go judging the discoloration, i am a fueler in the US Army and have dont a lot in these boots??I am a currently deployed US army soldier. I bought these boots last second after my nike boots got a hole in them and i couldnt wait for a new pair. These boots are nice, comfortable, especially compared to the basic training boots, and are pretty light. I thought that within a couple of weeks they would start to show signs of wear and tear but ive had them for 2months now, doing a lot of work, walking, and running, and they look way better than i thought they would. Highly recommended for someone whos looking for a good pair of boots with an affordable price!
8-Inch Lightweight Thin Military Work Boots
Light weight and breathable, But...
Happy overall with boots, but have some discomfort with one boot rubbing ankle.
True to Size, Good for the Price.
Fits good, and feels study enough for the money, which is all I can really ask for.
Overall a decent boot for the price
I needed a combat style boot quick and didn¡¯t have enough for a more expensive version so I picked this one. I got the thick tan boot and at first I thought they were a bit too thick but they are actually reasonably sized, water proof is really good as well, feet stay warm and dry in them. I have been wearing them daily for the past month, walking around 12-16 miles in them every week and they¡¯ve help up pretty good so far. But just like all boots be sure to set aside time to break them in properly before you wear them consistently or else you will be in pain in discomfort. But after you break them in they¡¯re pretty comfortable.